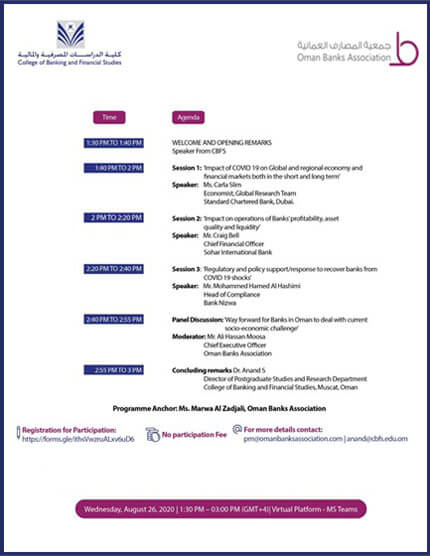 OBA CBFS Joint Webinar
OBA, in coordination with the College of Banking and Financial Studies (CBFS), organised a webinar on the Impact of COVID-19 on Banking; Challenges and Responses. The webinar took place using a virtual platform on the 26th August 2020 1:30 pm to 3:00 pm. The main topics and resources for the event were, as follows:
Impact of COVID-19 on Global and regional economy and financial markets both in the short and long term' by Ms. Carla Slim, Economist, Global Research Team, Standard Chartered Bank
Impact on operations of Banks' profitability, asset quality and liquidity' by Mr. Craig Bell, Chief Financial Officer, Sohar International Bank
Regulatory and policy support/response to recover banks from COVID 19 shocks' by Mr. Mohammed Al Hashmi, Head of Compliance, Bank Nizwa
Way forward for Banks in Oman to deal with current socio-economic challenge' Panel Discussion moderated by Mr. Ali Hassan Moosa, Chief Executive Officer, Oman Banks Association
The event had over 750 registrations including bankers, regulators, policy makers, college students, researchers, and Academicians.